Soon, the Union Public Service Commission (UPSC) will announce the admit cards for the UPSC Civil Services Prelims Exam 2022.
You can get the document on the UPSC website after it's made available. It's important to take your UPSC CSE admit card to the exam centre since it contains important information.
According to the UPSC exam schedule, the UPSC CSE Prelims 2022 test will be on June 5, 2022.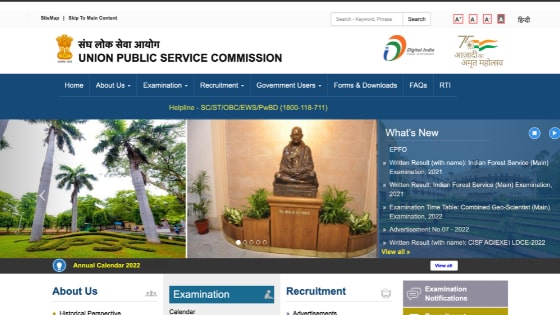 UPSC CSE Admit Card 2022 Details
Union Public Service Commission, UPSC Civil Services Prelims 2022 admit cards will be available at upsc.gov.in shortly.
UPSC CSE Prelims 2022 candidates can get their hall tickets after they've been issued on the UPSC website.
In an announcement made by the Union Public Service Commission on February 2, 2022, applicants will be able to get their e-admit cards three weeks before the test.
Normally, admit cards are available within a few days of the UPSC Civil Services Exams 2022, but this doesn't always happen.
The UPSC CSE Preliminary Exam 2022 will be held on June 5, 2022. Once the e-admit cards are published, they can be downloaded from the UPSC website.
You can get your UPSC CSE Prelims Admit Cards for 2022 by following the steps outlined below.
UPSC CSE Exam Date 2022 Details
Since studying for IAS takes more than a year, knowing when the test will be held is crucial to preparing effectively.
Despite putting in more than a year of effort and taking the preliminary exam, candidates for the IAS lack confidence in their preparation.
They must develop a new preparation plan for the IAS.
| | |
| --- | --- |
| Notification of UPSC CSE (IAS) 2022 | 2nd Feb 2022 |
| Applications start on | 2nd Feb 2022 |
| Deadline for applications | 22nd Feb 2022 |
| UPSC CSE (IAS) admit card 2022 | 15th May 2022 |
| UPSC CSE (IAS) prelims exam 2022 | 5th June 2022 |
| IAS Prelims Result 2022 | 26th June 2022 (As Expected) |
| IAS Main admit card 2022 | 26th August 2022 (As Expected) |
| IAS Main Exam 2022 | 18th Sep 2022 to 25 Sep 2022 |
To create a plan, aspirants need a record of all the events during the IAS test.
As soon as candidates are aware of when the IAS examinations will take place, they can plan their preparation and intensity of their efforts accordingly.
UPSC CSE Hall Ticket 2022 Download
UPSC Prelims Admit Card 2022 will be released for the first time on May 15, 2022, based on historical trends.
You have to enter your login info correctly to get the UPSC Admit Card 2022.
If you have trouble downloading UPSC Hall Ticket, let the commission know as soon as you can.
Candidate's IAS Prelims Admit Cards will not be emailed to them by UPSC. Candidates must visit UPSC's official website to obtain their admit cards.
Candidates should check their admit cards online when applying to the UPSC, or view a UPSC notification to see who has been rejected, whatever the reason may be.
How Can I Download UPSC Admit Card 2022?
To get their admit cards for the UPSC IAS exam, including the preliminary, primary, and interview rounds, candidates must follow the steps outlined below.
The UPSC IAS Admit Card for 2022 can be obtained by clicking on the link provided below.
#Step 1. If you prefer, you can go to UPSC's official website or click the direct link provided below to bypass the second step completely.
#Step 2. Select "e-Admit Card Civil Services (Preliminary) Examination, 2022" from the drop-down menu.
#Step 3. Important Instructions are provided in both English and Hindi. Please read them carefully.
#Step 4. After you've finished reading, choose Yes for the question "Have you read and printed the 'Important Instructions'?"
Important Instructions for UPSC CSE 2022
Examine the e-Admit Card obtained from the website carefully.
If you communicate with the UPSC, please provide your registration ID, name, roll number, and examination details.
A printed copy of the e-admit card and the original picture identification card are required to be brought into the test hall.
Your admission card should be kept safely.
It is your responsibility to prove that you did not hire an impostor if another person attempts to use this e-Admit Card.
The OMR response sheet will be rejected if any inconsistencies are discovered in filling out the roll number or the test booklet series code.
Frequently Asked Questions
How to download the UPSC CSE Admit Card 2022?
Candidates can download their UPSC admit card by following the steps mentioned below:
Step 1: Visit the UPSC official website (http://www.upsc.gov.in/).
Step 2: Click on the Admit Card link available on the Home page of the website.
Step 3: Read the instructions given on the page and click on the Yes button.
Step 4: Select any of the given two options – By Registration ID or By Roll Number.
Step 5: Enter registration ID and date of birth (if 'By Registration ID' is selected) or roll number and date of birth (if 'By Roll Number' is selected).
Step 6: Click on the Submit button.
Step 7: Download the CSE admit card and take a printout for further references.
Does UPSC Send admit card by post?
E-Admit Cards are issued to eligible candidates around three weeks before the Exam.
e-Admit Cards are available on the UPSC website [https://upsconline.nic.in] for candidates to download.
There is no postal mailing of the Admit Cards.
Conclusion
This is it for UPSC CSE Admit Card 2022. We hope you have got all the detailed information about this topic.
If you have any further queries, kindly comment below. We will try to answer you as soon as possible.